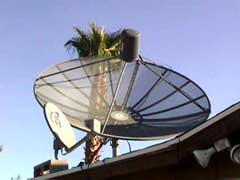 At Eye In The Sky, we specialize in Big Dish Satellite Systems sales, service, and installation. We recommend the Motorola 4DTV (www.4DTV.com) satellite receiver and the 7.5' mesh satellite dish, or larger 10' dish for new systems.
We are certified with Spacenet, FordStar, Gilat, and Hughes network systems for troubleshooting and installation.
With our certification as a Microsoft Dynamics Registered Partner for Microsoft Retail Management System (Point Of Sale) and custom System Builder, we now offer sales, service and installation of all Network wiring components for both the home and business, as well as Network (IP) security cameras.
We have been in business since May 1984 serving the Valley and the state of Arizona by selling and installing Big Dish systems and then branching out to serve the commercial customer, with certifications in networking and training in operating systems of Linux, Novell, Windows 95, 98, NT, 2000, XP, Small Business Server 2003, 2008, 2011, and hardware training in Cisco switches & routers.
We continue to serve our community by using the latest technology and creative solutions for small business to maximize our customers' profitability.
Insured ($1,000,000.00 liability policy)